We aim to help the children develop as confident, enthusiastic and effective learners and this is central to our thinking. We recognise the importance of designing and teaching a curriculum that inspires and challenges our children and begins to prepare them for life in the 21st Century.
Based on the framework of the Early Years Foundation Stage (EYFS) and the National Curriculum we aim to promote a programme of learning which brings out the best in every child and which takes place in an inspiring and engaging learning environment. EYFS (or Reception) does not fall under the National Curriculum and is covered by a separate framework.
More details around the EYFS Curriculum and the Baseline assessments can be found here
EYFS Workshop for Parents September 2021

Reception Baseline Assessment Booklet 2021

Play is an essential part of daily life, exploration of the world around them encourages our children to seek and delve beneath the surface of things and to ask and answer questions like: What do you think…? Why do you think…? How do you think…?
Curriculum Intent
We encourage all our children to become confident and caring individuals and we help them to develop a lifelong love of learning.
We provide a diverse and creative curriculum with a wide range of first hand experiences to develop creative thinking and a thirst for new experiences.
We welcome diversity and encourage all our children to understand the contribution they can make to the community and wider society.
We recognise every child as a unique individual and nurture them to enable them to achieve. It is our aim that children leave Wootton Bassett Infants' School with lasting and fond memories of their time here. After all ……learning should be fun!
The National Curriculum
At Wootton Bassett Infants' we teach all the subjects defined in the National Curriculum and all our children fall within the Foundation Stage and Key Stage 1. Some of these subjects will be taught discretely but the majority will be taught through a topic based approach which embraces cross-curricular activities.
We do not necessarily teach lessons named after all individual subjects. Topics are planned to involve a range of subjects in the study of a theme e.g. Living & Growing or People Who Help Us.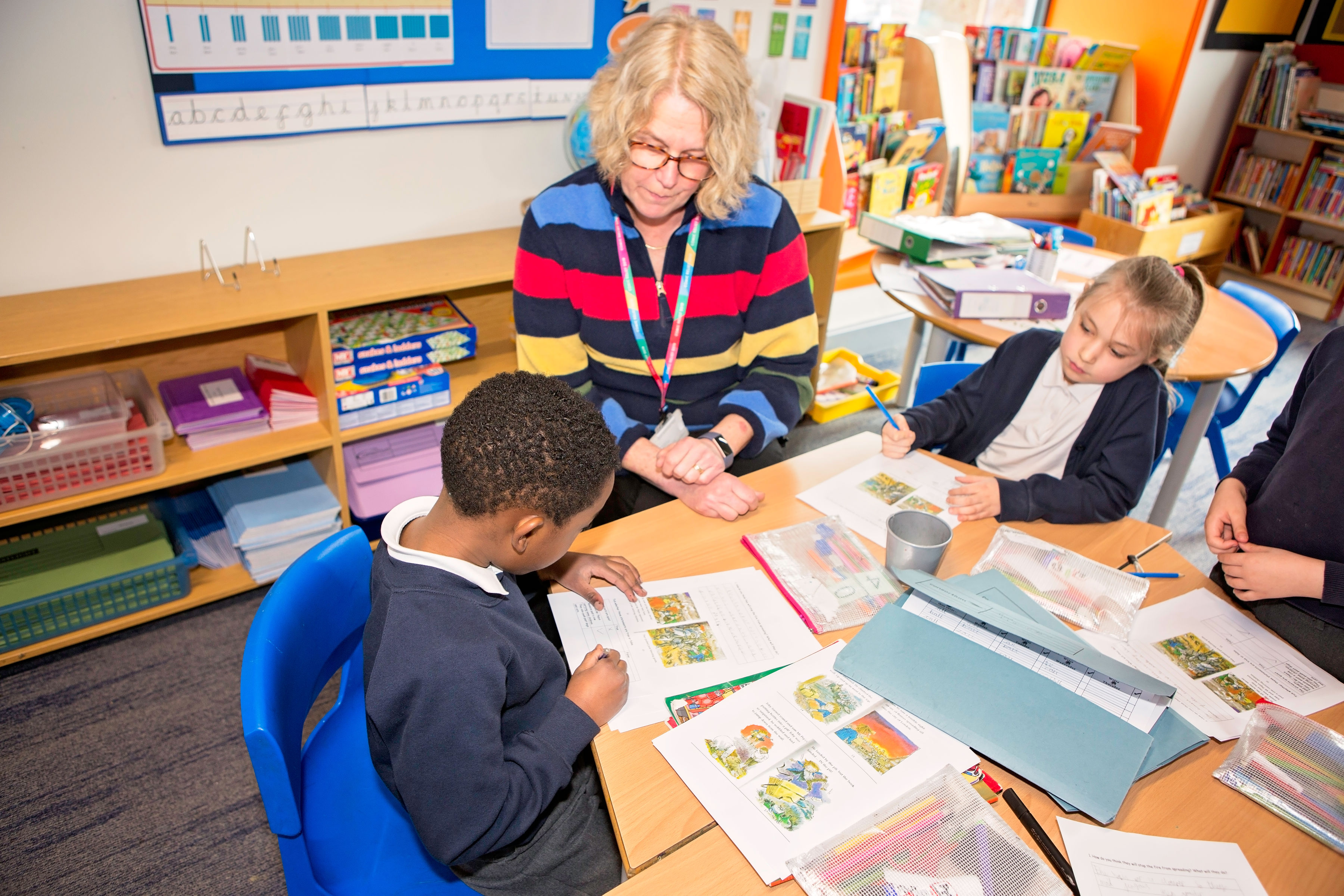 The children work individually, in groups or as a whole class. The teaching staff carefully determine which approach is appropriate at any one time. In a formal school week 21 hours and 20 minutes are spent on teaching, including Religious Education but excluding the statutory daily act of collective worship, registration, breaks and lunch hour.
Our approach to the Curriculum complies with our duties in the Equality Act 2010 and is accessible for those with disabilities and special educational needs.
The Core Subjects are English, Mathematics and Science.
Maths is taught using the framework from the NCETM (National Centre for Excellence for the Teaching of Mathematics) scheme.
The Foundation Subjects are History, Geography, Religious Studies, Design and Technology, Music, Art, Computing and Physical Education. The policies for all subjects can be found on the policies page. Our Curriculum Brochure can also be found here: Part 2 – The Curriculum October 2020
Phonics is taught throughout the school using Letters and Sounds, this is supported by Big Cat letters and sounds decodable books.
This ensure that children practise reading with books that are decodable for them at that stage of their learning.
We hold parent information events throughout the year and we look forward to welcoming you at the next one.
We use the 'Letterjoin' handwriting scheme and our Year 1 children will start practicing and using cursive writing within their daily work. Each child will have a laminated copy of the alphabet in their book bag but it is also available here Year 1 Cursive Writing Sheet
The presentation and parents guide to the scheme is available here Handwriting workshop Jan 2020
Curriculum Newsletters
Curriculum Newsletter Part 4 (Art, Music & PE)

Curriculum Newsletter Part 3 (DT, Geography & History)
Curriculum Newsletter Part 2 (Phonics & Computing)
Curriculum Newsletter Part 1 (PSHE, Reading & Writing)