Cultural Capital at Wootton Bassett Infants
Cultural Capital Statement
Cultural capital is defined as the accumulation of knowledge, behaviours, and skills that a student can draw upon and which demonstrates their cultural awareness, knowledge and competence; it is one of the key ingredients a student will draw upon to be successful in society, their career and the world of work.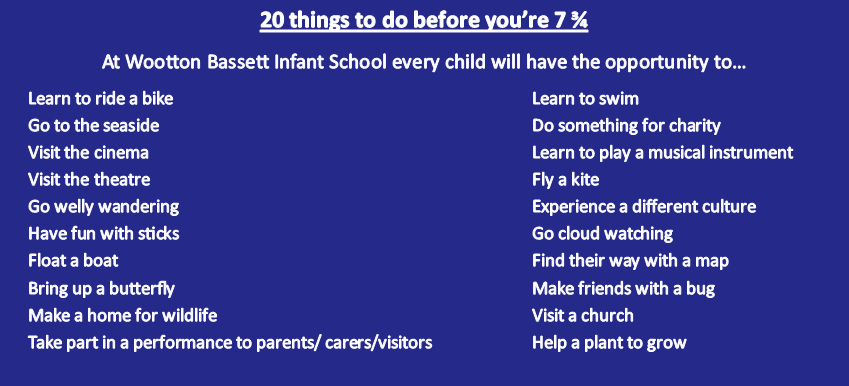 Ofsted

"As part of making the judgement about the quality of education, inspectors will consider the extent to which schools are equipping pupils with the knowledge and cultural capital they need to succeed in life. Our understanding of 'knowledge and cultural capital' is derived from the following wording in the national curriculum: 'It is the essential knowledge that pupils need to be educated citizens, introducing them to the best that has been thought and said and helping to engender an appreciation of human creativity and achievement."

What does this look like in school?
INTENT
IMPLEMENTATION
IMPACT

At WBIS we have identified a range of cultural capital experiences which aim to enhance the children's learning and provide experiences that allow them to appreciate the local environment and beyond




We make use of the local area looking at buildings like the church, the town hall and visiting the bookshop and the library.

We celebrate traditional customs like Harvest, Christmas and Easter where we share songs and stories with our community, and we take part in events such as Diwali and Chinese New Year with a visit to the Chinese restaurant

Our Year 2 children sing to the local Mother's Union and take part in the Infant Music Festival


The children make links between their experiences and their learning.

They appreciate that there are different ways to be successful.

They respect that people are different and do things in different ways.




We aim to provide activities such as theatre visits and trips to the cinema, the seaside and museums to allow all children to experience the same opportunities.




We support local charities such as the local food bank. as well as national events such as Children in Need and Down Syndrome Day, when we wear odd socks.

We make visits to the cinema, the theatre and we have visits from theatre groups. We put on our own performances such as The Snow Queen. The Wind in the Willows or Peter Pan.

We go on school trips and visits to places like The Cotswold Farm Park, Clevedon Pier and The Watermill Theatre.


They communicate with people outside school, and they understand the expectations in terms of behaviour when attending events outside school. They find skills and talents they didn't know they had.

They get opportunities to show off talents they didn't know they have.

They appreciate other people's talents.




Children learn best when they are immersed in their education and, by supporting the curriculum with a range of extra activities, we can bring the curriculum to life and emphasise our ethos that 'learning is fun'. Children remember these experiences (sticky knowledge) and develop the skills they need active learners and successful citizens.




We dress up as evacuees and visit the Steam Museum.

We visit other museums such as The Roald Dahl Museum.

We read lots of books and classic texts and poetry as a major part of our topics. We also read books from different countries and cultures

We talk about how people inspire us.

We use art, both making and looking, to enhance our topic work. We might look at Eric Ravilious (evacuees) or Lowry (factories) and illustrators such as Quentin Blake (Charlie and the Chocolate factory). We also look at art from other cultures.




We look at food from different cultures. From jam tarts (Alice in wonderland) to French breakfasts and Chinese and Indian food (Chinese New Year, The Secret Garden and Around the world in 80 days)




Dance sessions in school including book inspired sessions from West End in schools and a dance inspired by the Lion King.




We have hatching chicks in school and visits from lambs and other farm animals.


They are encouraged to form opinions about their likes and dislikes.

They experience things they haven't experienced before.

Encourages discussion.

Improves vocabulary and gives children ideas for their own work.

Highlights traditions and British values.

Reinforce the school motto that learning is fun.